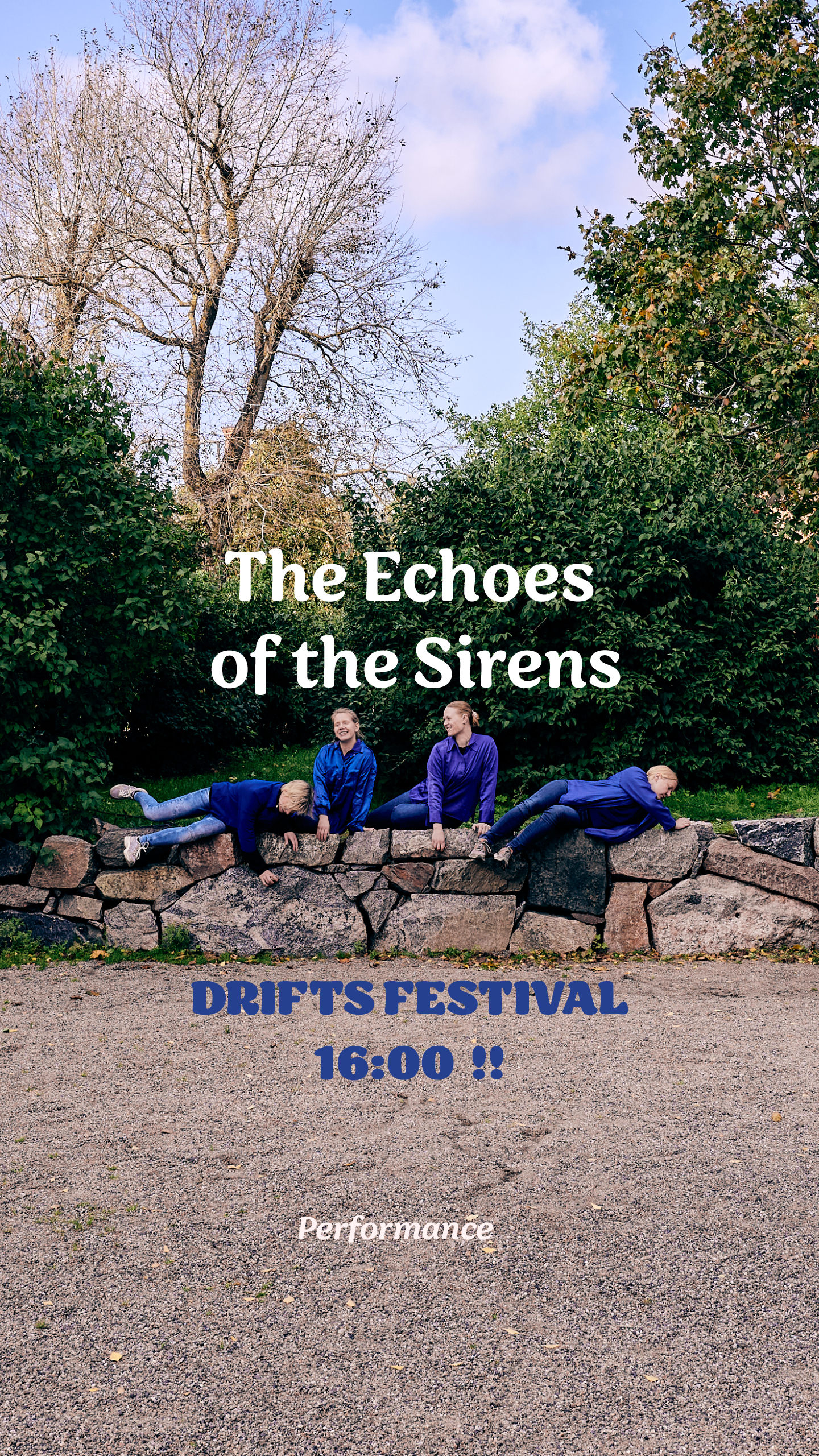 The Echoes of the Sirens – performance at Drifts festival 1.10.23 
Honoured to have been part of Sirens working group at Drifts for a photographic and video documentation, followed by a small on the go social campaign, the beginning of a complete design set.
Give a glance to Instagram reels here.
"Throughout their muted history, they have lived in dreams, silenced bodies, silences, silent rebellions." -Hélène Cixous-
The Echoes of the Sirens ponders the place of feminine in the world, bringing forth feminine voice, body and space. It is a landscape and a terrain of strange bodies echoing femininity. The work is inspired by Siren creatures, which according to philosopher Adriana Cavarero are "the most dangerous vocal creatures that the west has ever imagined".
The performance opens up an ambivalent space with feminine echoes through whispering, singing, laughing, screaming, panting, humming and wavy bodies that form sounding, vibrating, tactile, spatial and transforming sound fields. The work questions the social, cultural and corporeal place that the patriarchal and phallocentric structure has created for the feminine. Listening to the echoes of often silenced feminine histories, we want to imagine possible feminine futures, as a kind of utopia of unregulated femininity.
The Echoes of the Sirens is part of a working process of a performance the Song of the Sirens, that will be performed during 2024 in an yet unspecified place. We want to open up and share our process by spreading it in the open air, as echoes of the phase where we are now.
Working group:
Choreographer Heli Keskikallio
Dancers Johanna Karlberg, Ella-Noora Koikkalainen, Taru Koski and Lotta Suomi
Sound designer Miki Brunou
Space designer Bea Tornberg
The work is supported by Kone Foundation and the City of Helsinki